Purpose of an EIA and why use Enviro Dynamics
Our purpose is to make the most of our clients' resources while ensuring that their activities do not impact negatively on the resources of others. This we do by applying the environmental assessment process and other tools as according to applicable international and in-country legislation and guidelines. We have more than 10 years experience, working within these guidelines.
By implementing applicable legislation, we can ensure that all potential impacts or outcomes whether they be social, economic or ecological are considered before any development takes place. These 'pre-developmental' considerations are extremely important as they assist proponents and governments to eliminate unviable alternatives; optimise overall benefits; and prevent or minimise unwanted impacts of the projects.
The Environmental Assessment Process: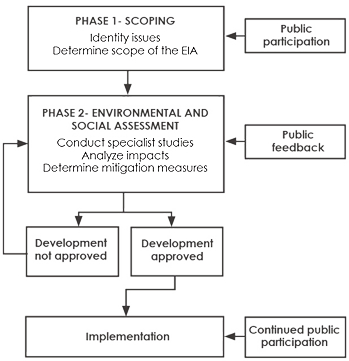 We are a leading company in our field with over 10 years of local and international experience.
Our project management and stakeholder consultation skills, which are key to our business, are unprecedented.
Our reputation speaks of good character and integrity.
We have access to a large pool of experts whom we carefully select for each project.
We prefer using local expertise in the areas where we work.
We understand that time is money, so we aim at getting the right answers at the right time, using the right resources.
We focus on key issues of the project and hire only the expertise needed to answer the relevant questions.
Our approaches are flexible and cost effective, moulded to the needs of the client, while observing all required standards.
We have a passion for sustainable solutions which benefit all parties albeit social, ecological and economic.
Enviro Dynamics provides the following services:
Environmental Impact Assessments (EIA)
Social Impact Assessments (SIA)
Strategic Environmental Assessments (SEA)
Environmental Management Systems (EMS)
Environmental Management Plans (EMP)
Sustainability Assessments
Specialist Studies
Construction Monitoring
Environmental Policies
Tailor-made environmental management and conservation studies